Stretchline helps develop the Speedo LZR Racer, the world's fastest swimsuit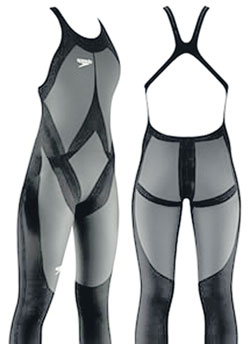 When a group of the world's best swimmers like Michael Phelps from the US prepare to clinch as many gold as possible at the Beijing Games, a Sri Lankan group will enjoy every part of that success.
Stretchline Holdings, part of MAS Holdings Group, is taking Sri Lanka into the international limelight, as two of its innovations have been instrumental in the development of the world's fastest swimsuit -- the Speedo LZR Racer. This cutting edge creation is all about reducing drag in the water, and the key to the success of the suit are two very unique products developed solely by Stretchline -- stay4sure and Bondelast, according to a company spokesman.
Speedo is arguably the world's largest swimsuit manufacturer and is sponsoring over 30 athletes from eight countries including the likes of Emily Seebohm and Grant Hackett from Australia and Pelps and Dara Torres from the US. The Olympics began on Friday with the swimming events running till August 17. In an exclusive to The Sunday Times FT, Timothy Speldewinde, CEO of Stretchline Holdings said his company is "proud to be a part of this amazing partnership bonded together for Olympian heights." Mr Speldewinde, a Sri Lankan national swimmer of repute in the late 1970s, said it is "also a proud day for Sri Lanka with this innovative creation."
The company spokesman said that since the launch of the Speedo LZR Racer in February this year, swimmers have broken 52 world records while wearing it. "There will be more records broken at the Games with the help of the speediest-ever swimsuit in which Sri Lanka is a part of," he said. Sri Lanka is competing in eight sports with Daniel Lee and Mayumi Raheem being the swimmers on the team. However the duo is not among the Speedo-sponsored swimmers though they are mostly likely to be attired in a Speedo swimsuit, like many other swimmers taking part.
Explaining the innovative product, the spokesman said Stay4sure is applied to the ankles of each leg to hold them firmly in place. The patented "sticky" silicone gently adheres to the skin and forms an extra seal to help keep the suit in place during use. "Bondelast, seam reinforcement tape is bonded over the top of the ultra-sonically welded seams to hold the garment together.
The Bondelast product with its 250 Newton seam strength eliminates the need for stitching, thereby resulting in a seamless garment thus making it, the world's first fully bonded swimsuit," he added.
Stretchline Holdings is headquarted in Hong Kong and is one of the world's leading manufacturers of elastics producing 1.5 million metres of elastic a day. In February 2008, the company won the 2008 Femmy Award for Innovation in the Intimate Apparel Industry, a globally recognised award, the spokesman said.
This is the second time that MAS Holdings is playing an important role in the Olympics. At the 2004 Games in Athens, Linea Aqua, a MAS unit, was among suppliers who sewed the SPEEDO swimsuits used by dozens of swimmers, many who won gold